Complete Music Trainer
We are very proud to announce that we have just released Complete Music Trainer, an application allowing to access Complete Ear Trainer, Complete Rhythm Trainer and Complete Music Reading Trainer on a desktop computer!
Complete Music Trainer is available directly in a browser (Chrome, Firefox, Edge and Safari are supported), or via packaged desktop apps (Windows and macOS), and it contains the entirety of our three acclaimed apps in a single convenient user interface.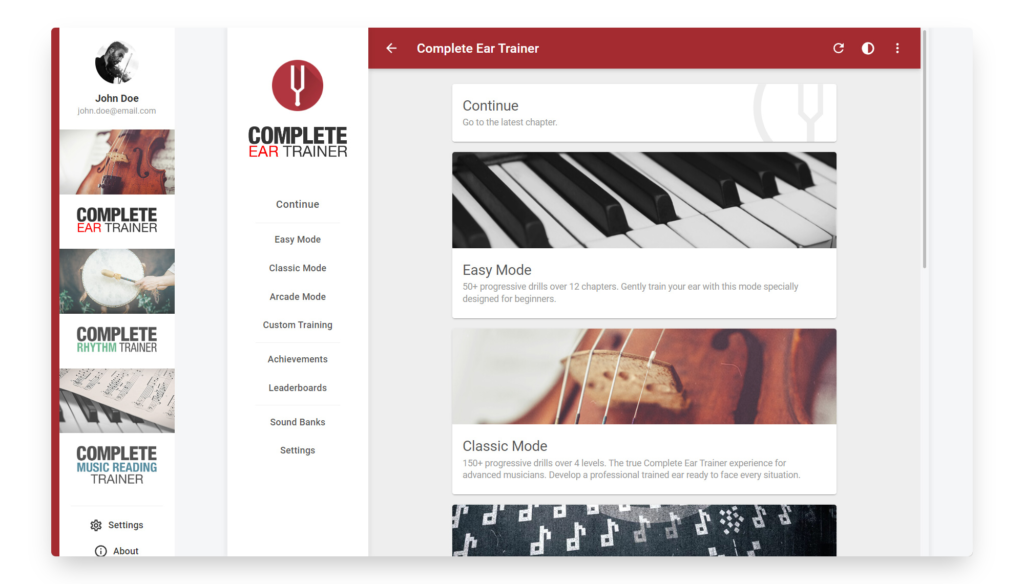 The only thing currently missing in it is custom training (you can play your custom drills and custom programs created on Android/iOS, but not create or edit them in Complete Music Trainer yet), but it's already in the work and will be coming real soon.
Complete Music Trainer has a free trial period of 7 days, after which you can either subscribe (0.99€/month), or buy lifetime access (19.99€).
… but that's not all: we have also just released new versions of all our apps on Android and iOS with many improvements! See details below.
Android/iOS apps
In-app achievements
Achievements are now handled inside the apps. There is no need to sign in to Google Play Games or Apple Game Center anymore to unlock and display achievements.
Therefore, achievements are now always enabled, and a switch has been added in the apps' settings to optionally also publish your achievements to Google Play Games / Apple Game Center.
Cross-platform leaderboards
Leaderboards are now handled on our own servers instead of using Google Play Games / Apple Game Center, meaning that leaderboards are now cross-platform and are displaying – on a brand-new user interface! – scores from Android, iOS and Complete Music Trainer users.
Cross-platform cloud sync
We are now using our own servers to sync progression data in the cloud. Signing in to Google Play Games / Apple Game Center is not required anymore.
As a result, cloud sync is now cross-platform: your data will from now on be synced between Android, iOS and the web/desktop version of the apps.
Achievements and Complete Rhythm Trainer's saved free practices are also now synced in the cloud.
Cross-platform license
We are now using our own license server. Consequently – and this was a popular request! -, licenses are now cross-platform: if you buy the full version of the app on Android, the full version will also be available on iOS. And vice-versa.
New images
We were not totally happy with two of the images used in the apps ("custom training" and "achievements"), so we replaced them.
… and more:
You can now set a profile picture that will be displayed on leaderboards
You can now delete your account directly from within the apps
Typography is now bolder in many places to improve readability
Separators have been added to the app menu
Custom programs: Leaderboards and Invite friends/students menu items have been added
You can now reset options to default values in the custom drill options screen
A lot of bug fixes, minor improvements and under-the-hood structural changes and improvements
What's next?
So, now, what's next? Well, we are definitely not stopping there!
In the next few weeks, we will implement custom training in Complete Music Trainer and finish tweaking and improving the iOS versions of the apps that are still needing a touch of polish in some places.
Once that is done, we have many ideas for the future. We don't know exactly what we will do and in which order, but we have started to think about improving the experience for schools and teachers, adding chord reading to Complete Music Reading Trainer, and adding a new mode in Complete Ear Trainer. If you have some ideas about these subjects, do not hesitate to email us at contact@binaryguilt.com, now is the time!
We are very excited about this new cross-platform architecture and about the ability to access the apps on any device. We hope that you will enjoy it too!